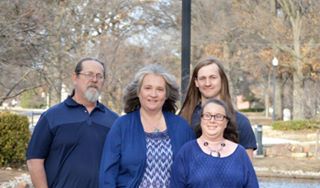 Email :
daynasdaycare.com@gmail.com
Cell :
316-734-5519
Being a parent myself, I know that it is very important for parents to find a person who is responsible, friendly and trustworthy when looking for childcare. I'm sure that you will find all these qualities within me. My goal is to help prepare your child/ren for school. I run weekly year round preschool thematic themes for 2.5 to school age.
My husband James and I have been married since 1982. We have two children of our own. Our daughter Kayla is 26 years old, who is adopted and our previous foster child. She is a special needs child/adult. She is a sweet and loving person. We have home schooled her since 6th grade. She lives at home with us and will always due to her special needs limitations. We also have a 26-year-old biological son who graduated WSU majored in Mechanical Engineering and works at an local engineering company and lives on west side of Wichita .
Years ago my husband and I were a family foster care home that was licensed from S.R.S. We have many previous foster children who are now adults that have children of their own now.
I am also a. M.A. "Medical Assistant" for 15 years I did in home private duty care for clients, specializing in care of others affected with Alzheimer's disease.
So I am very experienced in caring for children of all ages and needs. Please note that I am not a babysitter, but an educator and caregiver of a family daycare.
At first, you and your child may need to adjust to a new environment and routine. Therefore, if I can be of any assistance to you as a working parent, please let me know. I hope that you will be able to look upon me as both a friend and a caregiver for your child. The daycare welcomes any new ideas! Feel free to speak up or even take a peek at us.
My Responsibilities to You
*Provide your child/ran with a loving, clean and nurturing environment for your child to flourish
* Provide you open honest communications on your child's day at daycare
*Provide daily Facebook updates with notices of birthdays, outings, closings and that week's theme unit etc
*Provide nutritious snacks and lunch; provide you with copy of 12-week rotation of my menus
*Provide all age's children appropriate educational and fun things to do
* Provide weekly Pre k themes for your child to learn letters, ABC, Shapes to help prepare them for school
* Help to teach your child good manners and social skills
*Be aware of any updates with childcare issues through support groups and local agencies
*Email and post of any illness of children of families that attend my daycare
* Notify you of any illness or injury of your child/ ren
*Provide all payments made and issue yearly statement for your taxes each January
Your Responsibilities to Me
*Provide all necessary information on all registration forms in a timely manner
*Make sure that the child's immunizations are kept up to date, providing me copies of all records. I am required to do this by KDHE
*Fees must be paid on time each Friday (or last scheduled day of the week) at drop-off or pick-up of your child. I should NOT have to remind you, your employer you don't have to remind to pay you J
*Drop-off and pick-up child within times specified in your contract. If change in hours needed please discuss if I can even do new hours?
*Keep child home when displaying signs of illness; arrange to get your child within 1 hour if they become ill during daycare time
*Notify me immediately if your child has a communicable disease defined by the K.D.H.E.
*Notify me promptly of any changes in attendance; phone call or telling me is GREATLY appreciated.
*Provide all diapers, pull-ups, wipes and ointments needed. For infants only formula and jarred baby foods
*A change of (weather appropriate) clothing must be kept here at all times
*In summer months you will provide a hat, sunscreen, and bathing suit, towel and swimming diapers for water play
*In winter months you will provide a warm hat, mittens, and scarf (Please write Childs name on all items with permanent marker)
*Dress your child appropriately for the weather as we are outdoors all year round (weather permitting)
*Bring at least 2 sets clothes with pull-ups and that the children can remove easily. If I am working on helping to potty train your child*
Please read emails, and FB post on what is happening in daycare. I have done my part to keep communications open, please do YOUR part and READ! Thank YOU !!
Please treat me as a PROFESSIONAL, this is my career choice.
I am a childcare provider not a "babysitter".
---
\