INFORMATION & Q & A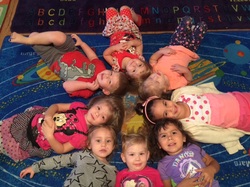 Experience: Foster parent ( 5 years) to children who are now are adults, adoptive and biological mother to 2 kids/adults, M. A (Medical Assistant). I am current CPR / First Aid certified. Did private duty in home care specializing in Alzheimer's for over 10+ years, also a previous foster parent cared for numerous ages kids and disabilities for years, references available online and per request. I am parent of a special needs child/adult , lots of love and attention...
Dayna's Daycare is located Stoneborough housing addition in a family neighborhood in Wichita, KS. But I am in Haysville , KS school district, Ruth Clark is my home based school The areas in the home used for daycare are child-proofed and safe, well lit with lots of educational toys and activities for structured and unstructured play.


I offer planned monthly thematic unit studies each week. My goal is help prepare your child for starting school.
Indoor Areas The daycare area in the house is a separate room's on the lower level of the home, which is a split-level layout.
My daycare is set up in an exclusive area of my basement, not shared by my living space.
On the landing/foyer are shoe cubbies to remove shoes and also a coat rack. Here is communication wall when entering daycare this is where you sign your child in and out , also where newsletter and any notices are posted.
Also we have cubby pockets where I send home kiddos preschool work/ crafts home each day.
We also have home security system in our home. Has alarms on all outside access doors and windows .Parents sign in and out with a key-less key pad on the storm door.
The play area is well organized with many shelf's of educational toys. We have a reading area that the kiddos all LOVE to sit and read
They are encouraged to play with any appropriate items, but also taught to return toys to their proper places when they are done with them.
I also have separate bedroom that is used for nap time. My son Josh has painted Sponge Bob scene on the daycare nap room walls,
The main daycare room there is a play kitchen area where the children will pretend "cook" meals for each other, while off to the side is a real kitchenette area where Dayna can prepare snacks and lunch for the children while staying nearby. All of the real food preparation items are on a high shelf well out of the reach of inquisitive little hands.
Click here to view 14 week rotation of menus .
In addition there is kids size table for the older children and highchairs for the little ones providing comfortable seating for all at meal times and for activities that might be more comfortable at a table.
Toys are available to the children that include large play-area toys, riding toys and other active items that encourage gross motor skill development and good exercise for the kids.
In addition there are cars, building blocks, Lego table and other fine-motor skill activities at hand at all times.
We have our restroom right off main play room with plenty of potty chairs for potty training:)
Outdoor Areas We like to spend some time outdoors as often as weather permits, each day that the children are here. The backyard is set up for the children with a boxed play area with mulch areas.
The entire play area is covered in mulch providing a soft and safe surface for the occasional misstep on the climbing toys.
There is a few playhouses .
For climbing around there is two multi-stage stair ,slide systems where the children can climb through holes into different chambers and slide down and out. Here is the crawl through Caterpillar we received for the CACFP Healthy Choices WOW Grant
At mealtime, if the weather is nice, there is also an outdoor child-sized picnic table & adult size in this area as well for outside picnics.
Frequently Asked QuestionsQ-
What hours are you open?
A- 7:00 am to 5:00 pm
Monday through Friday. Will consider earlier time with possible additional fee.
Q- Is there an enrollment/supply fee?
A-
Yes,$20 per child yearly. To help cover cost of wipes ( hand washing), sanitizers , printable and art/craft supplies.
Q-
Is there an enrollment/supply fee for drop in care?
A-No
Q-
Is there an deposit required in your daycare ?
A-
Yes, 1 week tuition , when you give me 2 weeks notice I apply to last week of care.
If you don't give me 2 weeks notice, then I will retain your deposit per our
contract
and
parent handbook
.
Q-
What type of safety features does the center have?
A-
Inspected by Fire Marshal yearly, Also inspected by K.D.H.E. at least yearly , safety plugs , all shelf are bolted to walls, gates, all requirements for children's safety required by the K.D.H.E.
We also have a home security system installed in our home .
Visit K.D.H.E. website @
http://www.kdheks.gov/bcclr/index.html
Q-
Do you supply all food , diapers and pull ups to care for my child?
A-
I provide food Including of formula ( PARENTS CHOICE ONLY) and baby food.
I run a 14 week rotation of menus. Diapers / Pull ups and wipes are parents responsibility.
Q-
Do you accept part-time or drop in care?
A-
Yes, when space is available. No supply/enrollment or deposit for drop in care.
Q-
Do you accept DCF/SRS payments for daycare tuition ?
A. Yes
DCF determines your eligibility and amount you qualify for daycare assistance!
EXAMPLE:
Tuition $115.00 week x 4.3= $494.50 month. You pay by 5th of each month with DCF Vision Card payment $
250.00 ( eligible amount determined by DCF)
Remaining tuition $244.50 divide by 4 you pay 61.13 weekly , or figure if you are paid biweekly or monthly
. If all your daycare tuition is covered by DCF, must be paid by the 5th of each month. Also required to give 2 weeks notice as private pay clients, per parent handbook and contract To avoid late fees. You are responsible for all charges not covered by DCF
To apply and see if you qualify for childcare subsidy assistance visit
http://www.srskansas.org/ISD/ees/child_care.htm
Q-
What ages do you accept?
A-
6 weeks and older
Q-
Do you require paid holidays, vacation and sick days?
A-
Yes, please read parent handbook for more information
http://www.daynasdaycare.com/parent_handbook.html
Q-
Do you offer a preschool program?
A-
I do a weekly/monthly thematic approach to teaching children, more info visit
http://daynasdaycare.com/monthlythemes.html
Q-
Are meals included in the price?
A-
Yes. Breakfast, lunch and afternoon snack are all included in the price. I also sometimes offer AM snack.
Click here for my 14week menu rotation.
Q-
I have more questions, but they are not answered here. Who may I contact?
A-
Yes, Please address these questions to Dayna daynasdaycare.com@gmail.com or call 316-734-5519 Cell
Q-
Do you have pets in your home ?
A-
Yes, we have cats , dogs and birds that are in my living area not in daycare floor.
All have current vaccinations and have yearly examines by veterinaries .
Q-
Are you familiar with medial experience, in case of emergency?
A-
I am am a medical assistant, also CPR certified. I also worked years in doctors offices and clinics .
Did private duty nursing specializing in Alzheimer's for almost 15 years .
Q- Do you take special needs children? What is your experience with special needs children?
A-Yes, I will take special needs children, I am mother of a special needs child/adult. I have numerous experience with special need children, from mental to physical disabilities.
Click here
for more info on my rates
---