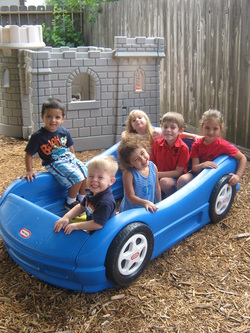 Want to add your testimonial ?Email: daynasdaycare.com@gmail.comor click on the CHILDCARE RATINGZ button above.8/7/12 My 5 year old daughter Britney was at Dayna's daycare for the Summer and I was so thrilled that I found exactly what I was looking for. I was so impressed with the daily activities, healthy meals, and the time, work, and love for the children Dayna puts into her daycare. I would recommend this daycare to anyone and am hoping for an opening next Summer so my daughter can go back.
1
1/28/2011Dayna's Daycare is AWESOME! My daughter really enjoyed going to Ms. Dayna's and I was worry free. My daughter learned many things and Dayna also assisted in Potty Training Jazlyn. The only reason we had to leave was because we moved to the other side of Wichita! I would definitely recommend Dayna's Daycare! The set up is amazing and very organized. :) Dayna is also very organized, neat and reliable. I really enjoyed the activities that my daughter participated in and the attention and love she received! J Thank you very much Dayna for everything you have done for Jazlyn. We will miss you dearly!
1
1/16/2010
Aaliyah told me today that she misses Dayna's and the Kids. She talks about all the kids all the time! Wish she didn't have to leave! You were/are a great teacher. We truly miss you!
1
2/9/2009 "Pulling into quiet neighborhood, following the curves, we arrive at a beautiful, well landscaped, brick home. Greeted with laughter and smiles, we met Dayna and her husband. Our 2 year old daughter quickly took to both of them without hesitation, which is unlike her personality. Dayna had all paperwork organized and easy to read and understand. Her home was very clean and child friendly. She had different centers and plenty of activities for the children to play with. Her toys were new, educational, and clean. Her backyard was full of clean play equipment, safe, and well landscaped.
We quickly took the position that was available at Dayna's daycare. As our daughter began to grow accustom to the routine, she fit in perfectly. Dayna taught my daughter how to put herself asleep on a cot and assisted us in potty-training our daughter. The meals provided were healthy and equally balanced. She adjusted the menu to any special needs that the child may have. She is understanding when it comes to dropping off your child early or if you may be running a couple minutes behind. Dayna provides pre-school like curriculum and intellectual/academic encouragement for your child's age-group. My daughter learned colors, numbers, shapes, pictures, and word, name, and phrase recognition. Dayna offers a lot of love, hugs, and attention to each and every child. She teaches the children the basic rights and wrongs of life and how to function with other children. She corrects and disciplines children as needed in a manner that is a learning experience for each child. She will individualize the care and or discipline for each and every child depending on their developmental level or delays. At the end of the day when we picked our daughter up, she was always clean and her hair was fixed as it was when she was dropped off. If I had an appointment or meeting after picking her up from daycare, I didn't have to worry about going home to change her clothes or clean her up, Mrs. Dayna had already done it. Friendly reminders are sent out when your child runs out of supplies. Also, weekly newsletters and menus are given, which makes you feel secure as a parent and kept in the loop. My family and I have nothing negative to say about Dayna, her husband, or her children. We are full of all positive thoughts and experiences. They were all very kind, friendly, and supportive of our situation. Due to personal changes within my family, our daughter no longer seeks care at Dayna's. Once things get back to normal in our lives, we hope that Dayna will have a spot in her daycare once again for our little girl, because we certainly have a spot in our heart for her! "
12/6/09 Dayna Brown is an excellent child care provider. She is very knowledgeable and keeps up to date with child care provider regulations. This is proven by the documentation she provides to parents and guardians and the fact she has read them and can usually tell you the current regulations without having to refer to documentation. She places the children's well being and safety above all. This is proven by getting to know Dayna Brown. She provides well balanced healthy meals and provides menu access to all parents through her web-site. She maintains a continually updated website that provides nearly all the information a parent might need of the on going activities at the day care. She has a security system with detectors on each access door. All areas of the day care are always keep clean. I would recommend Dayna's Day Care to anyone wanting excellent day care for their children. 4/15/09 My daughter felt at home and I never had to worry about her care. Dayna was very observant and kind in dealing with her. I would recommend her without reservation. 11/22/08I have had good daycare and very bad daycare, and I can go to work without worries knowing that Dayna is watching my son. 11/13/08 Absolutely Wonderful. Our son loves Dayna and her family. She really works with the children on learning skills. Our son comes home everyday with something new he has learned, or made or colored. Dayna is also great at informing the parents on how the children acted during the day, if the child seems to show preference to particular foods, and just how everything is going in general with the children. I wish we would have found her much earlier.
11/13/08 We LOVE LOVE LOVE her and her entire family. They are very loving with the children. Our son loves going to her house and he learns so much with her. I can't believe how clean her house is!! :) My older children always want to come into the house when we go pick up Lander. I only wish we would have found her sooner to take care of our older children. 11/13/08 Dayna is awesome! Her house is always spotless. She provides lessons and activities for the kids. She treats our child like her own. Austin absolutely adores her and sometimes fusses because he doesn't want to leave her house. I highly recommend her!!! 3/25/08Dayna is great. Our son loves her. We feel he is always being taken care of. Dayna is easy to communicate with and will do her best to work with you on whatever issues you have. She is well organized and the facility is always clean. We are very happy leaving our son in her care.
3/22/08 The best child care provider we've ever had! Her entire family is great with the kids. My school age children love to go in when I pick up the baby. She treats the kids just like they are her own. My husband & I are both in the Air Force and she is very supportive. She even sends us pictures of the baby when we are away from home. She's very good about telling you the new things the children have learned and the kind of day they had. She's very protective of the children and that makes me feel like they are really safe. Her house is always spotless. She is very organized. We've never had any problems. I feel truly blessed that we found her!!!
3/21/08i am very satistified with the care that my son gets. he really enjoys going. i really enjoy going to drop him off and pick him up. she is just part of the family. 3/20/08Very clean, caring and organized daycare. The kids love her just as much as the parents. 10/11/06 Very clean, neat and well organized. Detailed attention paid to childs emotional as well as physical condition changes. I didn't realize how bad my last provider was until my son started this daycare, I wish I would have changed sooner. As young as 14 mths I noticed a complete 360 in his everyday life. He seems so much happier and has learned lots. I am confident everyday that he is well taken care of, best decision I ever made. 10/10/06 EXCELLENT!!!!!!! The best decision I ever made for my family, I only wish I had found her sooner. 10/10/06 Great attention spent on scheduling different activities throughout the day for your children. Actually seems to care what your child is going through in life and communicates those cares with the parent on a daily basis. I miss taking my kids there! Good honest home to keep your kids during the day. 10/10/06 good daycare. Clean, caring, flexible. 10/9/06 Great Care in clean kid friendly daycare
---