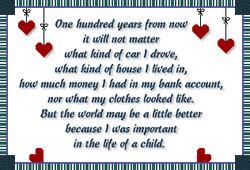 Experience:
Foster parent ( 5 years) to children who are now are adults, adoptive and biological mother to 2 kids/adults> I am a M. A (Medical Assistant). I am current CPR / First Aid certified. Did private duty in home care specializing in Alzheimer's for over 10+ years, also a previous foster parent cared for numerous ages kids and disabilities for years, references available online and per request. I am parent of a special needs child/adult , lots of love and attention...


---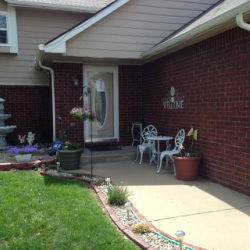 Dayna's Daycare
is located Stoneborough housing addition in a family neighborhood in Wichita, KS. But I am in Haysville , KS school district, Ruth Clark is my home based school . The areas in the home used for daycare are child-proofed and safe, well lit with lots of educational toys and activities for structured and unstructured play. I offer planned monthly thematic unit studies each week. My goal is help prepare your child for starting school.


---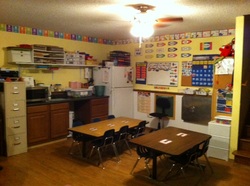 Indoor Areas: The daycare area in the house is a separate room's on the lower level of the home, which is a split-level layout.

My daycare is set up in an exclusive area of my basement, not shared by my living space.

On the landing/foyer are shoe cubbies to remove shoes and also a coat rack. Here is communication wall when entering daycare this is where you sign your child in and out , also where newsletter and any notices are posted. Also we have cubby pockets where I send home kiddos preschool work/ crafts home each day.

We also have home security system in our home. Has alarms on all outside access doors .Parents sign in and out with a key less key pad on the storm door.

The play area is well organized with many shelf's of educational toys. We have a reading area that the kiddos all LOVE to sit and read.
I have 2 computers in main playroom that have tons educational and fun games for older children. . We have tons educational videos , puzzles and activities that the children are quite familiar with. They are encouraged to play with any appropriate items, but also taught to return toys to their proper places when they are done with them.

I also have separate bedroom that is used for nap time. My son Josh has painted Sponge Bob scene on the daycare nap room walls .

The main daycare room there is a play kitchen area where the children will pretend "cook" meals for each other, while off to the side is a real kitchenette area where Dayna can prepare snacks and lunch for the children while staying nearby. All of the real food preparation items are on a high shelf well out of the reach of inquisitive little hands.

Click here to view 14 week rotation of menus .

In addition there is kids size table for the older children and highchairs for the little ones providing comfortable seating for all at meal times and for activities that might be more comfortable at a table.

Toys are available to the children that include large play-area toys, riding toys and other active items that encourage gross motor skill development and good exercise for the kids.

In addition there are cars, building blocks, Lego table and other fine-motor skill activities at hand at all times.

We have our restroom right off main play room with plenty of potty chairs for potty training:)
---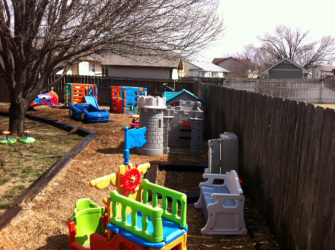 Outdoor Areas

We like to spend some time outdoors as often as weather permits, each day that the children are here. The backyard is set up for the children with a boxed play area with mulch areas.

The entire play area is covered in mulch providing a soft and safe surface for the occasional misstep on the climbing toys.

There is a few playhouses . For climbing around there is two multistage stair ,slide systems where the children can climb through holes into different chambers and slide down and out. Here is the crawl through Caterpillar we received for the CACFP Healthy Choices WOW Grant .

At mealtime, if the weather is nice, there is also an outdoor child-sized picnic table & adult size in this area as well for outside picnics.


---